Baby Babble
Life through the eyes of a diabetic, first-time mom.
February 25th, 2010 at 4:56 pm by krishill
Part of my job requires me interviewing high schools students fairly frequently and it's interesting talking to teenagers now because when I first started out in this profession I was barely 22 years old and could totally relate to those kids.
Now, though, fast approaching my 32nd birthday I enjoy talking to teens but I can see the generation gap growing.
One thing I often observe is how much of a rush these kids are to grow up. But, not just teens, even kids I see in grade schools.
I had this revelation a couple days ago that illuminated why kids are in such a rush to grow up — it's our fault as adults.
Well, this may not be the case with all parents or adults in a child's life, but with Lyla even now at three months old it seems like we're all in a big hurry for her to sit up on her own, get her first tooth, talk, crawl, walk, get her freakin' driver's license already.
Oh. My. Gosh.
She's three months old!
But, those developmental milestones have become a huge focus in my life, our life, and it's funny because Lyla is the only one who couldn't care less about them.
Everyone else, well, we can't wait till she's crawling — that's assuming she doesn't go straight to walking — and wow, how fun will it be at Halloween this year and Christmas this year and this summer think of all the things when can do when she can sit up by herself and man, I better start thinking about a high chair and starting her on solids…
Her life is going to go by too fast. One day, I'm going to blink, and she's going to be graduating from high school.
So, I need to slow it down and enjoy the things she's doing now, the milestones she's achieving now at her own pace which is plenty typical of babies her age or else I'm going to wonder if I've missed all the important stuff.
This reminds me of a strategy I employed when Jason and I were on our honeymoon in Hawaii nearly 10 years ago. I didn't take a single picture the whole nine days we were there. Yep. Nine whole days and not a single obligatory happy vacation, look we're on our honeymoon, photo.
Now, as you know, I like to take lots of photos of Lyla and I promise I won't stop doing that but I think the idea of no photos from Hawaii was that we were so busy enjoying our trip — it was the first time I'd been to Hawaii — that we didn't stop to take pictures. We had a camera. We just … didn't use it.
So, I want to be busy enjoying Lyla grow up, each precious moment, rather than spend all my time taking pictures and video or looking up the next milestone she's going to reach. Lyla will get there when she gets there.
I mean, she's in no hurry, so why should I hurry her there?
Then again, that doesn't mean I won't encourage her development.
I'm working on tummy time to help her eventually achieve independent mobility even though she haaaaaates it.
I also want to get an exersaucer since she really is getting stronger all the time with her head and neck muscles.
Then there's this:

It's a Bumbo babysitter for infants developing those all important sitting up skills.
So, I guess I'll have to walk a fine line between encouraging her development and rushing it.
As long as I tell her I love her, that she's beautiful and amazing every day, the rest should kind of fall into place. I think.
February 22nd, 2010 at 1:25 pm by krishill
During the crazy whirlwind that was the first 24 hours of Lyla's life at Valley Medical Center, one of the bajillion people that came through to check on us, talk to us about things we needed before left, ask us to do this or that, take our picture and so on was a representative from the Pacific Northwest Research Institute.
I can't remember her name, I just know it was a woman, and she asked us if we would be willing to allow them to use some of the blood taken after Lyla was born for a study on Type 1 diabetes.
I am a big fan of research. My father had Type 1 diabetes, a disease that killed him much too soon, so I am happy to help in any way that I can.
About a week and a half ago we got a letter from PNRI.
"We would like to thank you for taking part in the TEDDY Study on type 1 (juvenile) diabetes. We have the rest results for your child's sample that was taken while in the hospital shortly after birth.
"Lyla's blood spot tested negative for the genetic markers of type 1 diabetes. This does not promise that Lyla will never get diabetes. The good news is that Lyla's risk is not more than that of the average child, who has a chance of about 1 in 300 or .3 percent of developing type 1 diabetes."
It went on to thank us again, that no further participation on our part is necessary, but if Lyla is diagnosed someday with Type 1 to contact them as it would be helpful for the study.
I was definitely relieved to see that Lyla does not have the genetic markers for Type 1.
Since I found out just how important it was to have tight control over my blood sugar while I was pregnant for Lyla, I have tried to do everything I can to make sure I could minimize the potential she would get Type 2 as well, and luckily she was not a big baby.
And the more I talk to my mom, the more horrified I am by the stuff she did when she was pregnant with me, it's no wonder I've struggled with my weight most of my life and that I developed Type 2 at such a young age.
Now, I have to take responsibility, too as I ate junk food and sweets without thought of the consequences and didn't stay active when I went to college.
But, it certainly didn't help that my mom ate chocolate ice cream daily during her pregnancy which led to my birth weight being nearly 10 pounds.
Yesterday she came to visit and was asking me about when we might start Lyla on infant rice cereal.
Mom was telling me that she started feeding it to me when I was two months old because I had such an epic appetite — shocker, I was a big baby who survived on sugar in the womb, hmm — so she had to supplement because breast milk supplemented with formula wasn't enough.
I told her I wasn't sure yet, since Lyla seems perfectly content to eat four ounces of formula every two hours, and she's nowhere near as big as I was so I hadn't really thought about making any changes to her diet. I did just put her on soy formula a couple weeks ago and that seems to be working well now so since it ain't broke I don't see any reason to try and fix it.
I added that we can ask our family doctor when we go in for Lyla's four month well child check up on March 18.
Later on yesterday I told my husband about it and decided to do some research on the topic.
What I found about infant rice cereal was not comforting. From my perspective, it's not something I want to give my daughter, who is at risk already for developing diabetes because not only is her mother diabetic, but so are both my parents. Commercially produced rice cereal apparently is just sugar and other junk I don't want to give her. Some parent testimony I read, including from a doctor, said it is essentially a "rice brick" sitting in a baby's tummy.
Now, some parents like that it creates a fullness which breast milk or formula can't provide, as some anecdotal evidence from parents points to that helping babies sleep through the night.
Lyla already sleeps through night and I'm not sure I'm keen on starting her on anything before the six month mark even though plenty of pediatricians say infant rice cereal is fine for babies at four months.
Now, I'm not some kind of organic, whole food freak but growing up with an older sister who is a vegetarian that introduced me to organic and vegetarian food when I was in grade school I do enjoy that kind of thing.
Ultimately, I would like to make Lyla's first solid foods myself. Things like mashed sweet potatoes, bananas, avocados and the like appear to be good options at the six month mark and if we want to add some kind of grain, homemade oatmeal would be a good way to go.
We do have a Cuisinart food processor. It's totally doable.
But, maybe not all the time … so, maybe I'll get some organic baby food, too. I'm not sure, though, since the "organic" label can be misleading. Luckily being diabetic, I am a master label reader, and I have also learned a bit about what to look for on baby food labels, too. So, I'll be that mom in the Safeway at Four Corners standing there reading the baby food label jars. Probably not the only one, though.
Either way, I plan to add some spices to her food because I've read quite a bit that babies who eat flavorful food are less likely to be picky eaters as they get older. Sweet potatoes and bananas can have some cinnamon and maybe a little vanilla, for example, so that's something we can try.
It just is so important to me that she learns to eat right from the beginning and that she enjoys eating all the good stuff. Plus I would like for her to be an adventurous eater. I don't want her to turn her nose up at the thought of sushi or Vietnamese food or even leafy green vegetables.
For me, I was lucky that my sister is an adventurous eater and encouraged me to try things outside my comfort zone when I was young. OK, she teased me into it at first, but as I got older I was enthusiastic. I never would have had sushi at 13 for the first time, eaten Vietnamese, Korean, Malaysian, Moroccan or Indian food (with the latter being one of my absolute favorites) were it not for my older sister Elizabeth.
Hopefully I will be a good model when it comes to eating and that will be a major step toward preventing the health problems I've experienced in my life.
That's just one of the ways I want to provide my daughter with the things I didn't have growing up. My body started to fail me when I was 19. If there's anything I can do to help Lyla have a healthy life, then I'll do it, even if it is kind of inconvenient. She is SO worth it.
February 17th, 2010 at 2:06 pm by krishill
Everyone has heard the horror stories, er, the tales from parents about the joys of the early days that are defined by sleep deprivation, lack of time for hygiene or food, and a renewed appreciation for coffee.
My mother-in-law, Gale, for example has said often that the only way she could get my brother-in-law to sleep was to spend hours in her rocking chair. Often, her mother would arrive on weekday mornings to find Gale and Dave snoozing together in the rocking chair.
With both Jason and Dave, my mother-in-law recalls being exhausted, and just trying to get through work in a zombie-like state for the first nine months of their lives.
Now, my mom has long said I was a good sleeper, and that I was sleeping through the night by about three months old.
During the past 10 days or so, Lyla has gone from sleeping six or seven hours after being up well past 1 a.m., to conking out for the night around midnight and sleeping about eight hours. Sometimes we're lucky and she sleeps a little more.
Up until two days ago, she had slept in our room in a bassinet, which was graciously provided by a friend of Gale's. Had we not been given a bassinet, we wouldn't have had one, as I had no intention of spending the money. I am quite thankful for the gift as it has been well used.
She has pretty much outgrown the bassinet. Lyla is a bit bigger now than she was in this picture, which was taken Feb. 9. Well, she's longer, taller.
So, two nights ago Jason put her down in her crib. This is how I found her around 7:30 this morning. She fell asleep for good around midnight. She was still asleep when I left the house around 8:20.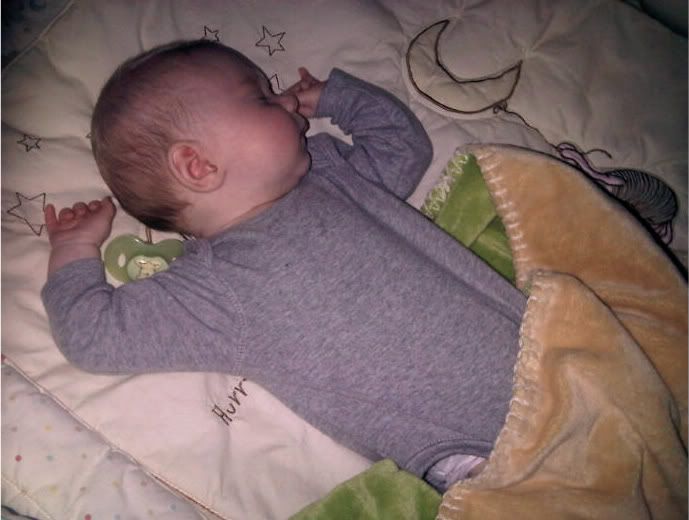 It's weird that she's not in our room. Especially now that she's sleeping pretty well — a trend that I hope continues — we had adjusted to her sleeping in the bassinet.
Last night after we crawled into bed, Jason was initially on high alert for cries of distress coming from Lyla's room, but whatever noise he heard was likely one of our beagles or our evil orange tabby cat.
I think we should invest in a baby monitor now.
I am glad, though, that she's finally in her crib and in her room.
But, now this really forces me to clean it up. Her clothes need to be reorganized as she's outgrown all the newborn stuff finally and I need to get a few other baby items put away. Plus we have stored our Christmas wrap under her crib but it so doesn't work because the storage boxes don't fit underneath it. So, you have to try not to trip when approaching the crib.
In the end, though, I guess these are all good problems to have.
And maybe now that I'm getting more sleep I can wean myself off coffee again.
Ah, the joys of parenthood.
February 8th, 2010 at 7:22 pm by krishill
Since she was born, friends, family and co-workers have looked at me, looked at Jason, then looked at Lyla and pronounced whom she looks like.
Jason's grandmother, Ellie, says simply, "She looks like Lyla!"
But, what do you think?
Here's Lyla, snapped with my cell phone camera just moments ago:
Then there's me. Both photos were taken when I was four months old. This one is with my mom at Christmastime. I hear I was nearly 10 pounds at birth. So, compared to Lyla, I was huuuuuuuuge!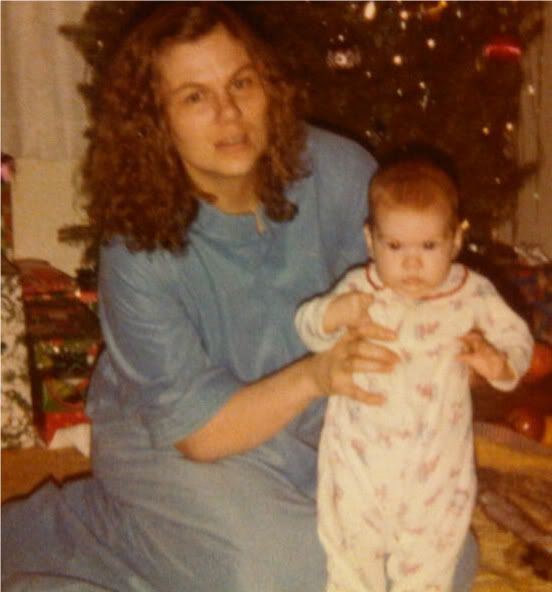 And this one is with my dad, Nick. I hear I loved riding around in the backpack with him.

And then there's my husband, Jason, when he was a baby. Turns out he was 8 pounds, 3 ounces when he was born. I'm not sure how old he was in this photo but I'm guessing about three or four months old.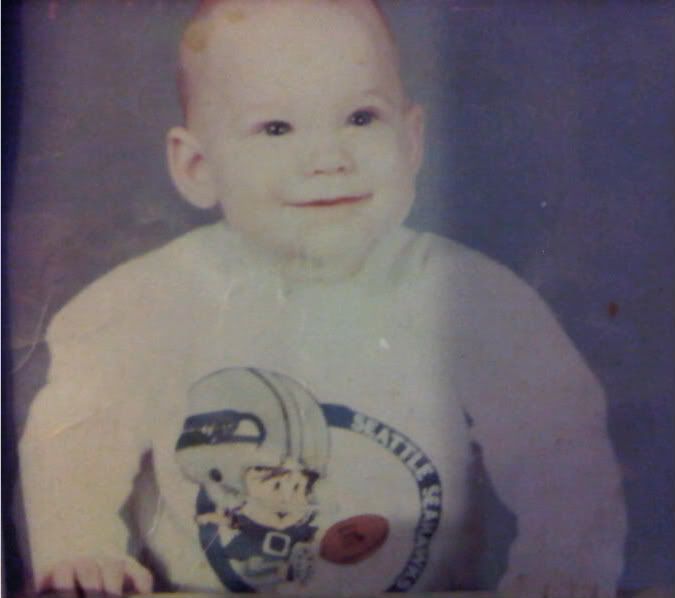 So, now that you have seen the photographic evidence, who does Lyla look like?
February 8th, 2010 at 1:19 pm by krishill
Lyla and I had a busy weekend.
On Friday, she spent some time with her grandparents, Art and Gale. She hadn't seen them in a couple of weeks and she cried a bit when Gale held her so I guess she's at a point where she doesn't like being held by whoever wants to hold her. I guess after a while she settled down but it was a little tough at first.
As you can see in this photo of Lyla with her Grandma, she was just fine…

Friday evening my sister, Elizabeth, drove down to visit us. We had dinner at Hacienda del Mar and then went back to my house just about a mile away and hung out. We talked and talked, my sister and I, which was great. Lyla was very unhappy. The first two days or so on the soy formula, our little girl didn't like it too much as it constipated her a bit, but by the end of Sunday she was fine. But, unhappy Lyla didn't want to be held by her auntie, either.
Saturday afternoon I ran down to Mama's Steak and Pasta (formerly Mama Passarelli's Dinner House) in Black Diamond so she could meet Mama herself. She did pretty well getting a little time with her honorary Nona Ginger, who got her smiling and giggling, but she did seem a little unsure at first. Ginger is clearly an experienced Nona (I understand that's the Italian word for "Grandmother") and I look forward to Lyla, Ginger and I having lunch together sometime soon, especially so we can talk about The Soup Ladies (an organization Ginger helped start a few years ago to feed emergency responders who handle disaster response) who will be recognized for work they did in Pierce County in the past year.
Coming soon will be a photo of Lyla in her very own Mama Passarelli's onesie.
On Sunday my friend Nancy, her husband Ryan, their son Tannis, 8, and daughter, Jerrin, 6, came over for the Super Bowl. In addition, my friend Bambee, and her three year old son, McKailen, also came over. We ate, we drank, but Lyla still didn't want to be held by anyone else.
Jerrin wanted to hold the baby, so, I had her sit on the couch and she did a great job holding her but after a few minutes the crying began so I took her back and she quieted right down.
Later, I handed her off to Bambee so I could have something to eat, and she cried the whole time. Within moments of me taking Lyla back after I finished scarfing down some of our tasty Super Bowl food she settled right back down.
It was one of those days where I just couldn't put her down. It was all about mommy. I even tried to put her down in her crib after she passed out. As soon as I did that, her eyes snapped open, so I picked her back up and by the time I had gotten back out to the family room to sit down and watch the game she was asleep again.
I keep reading that you just have to follow your baby's lead and this was one of those times where Lyla was happy only in my arms. Alrighty then.
After everyone left, I watched some of the Super Bowl highlights to catch a few big plays I missed while tending to my little girl, thank goodness for technology and our desire for on demand everything and instant gratification.
On another note, I wanted to show you a couple of other photos.
Here's one of the pictures from our photo session a couple of weeks ago at Yuen Lui:
And this is Lyla laying on her new quilt, handmade by Victoria Laise Jonas, Maple Valley Deputy Mayor and driving force behind the Maple Valley Farmers Market which started last year, something I'm very excited to take Lyla to on Saturdays this summer and fall. She went with me to almost every market over the summer, anyway, while I was pregnant.
Anyway, I just wanted to share a peaceful Lyla and her quilt. It's a sweet photo.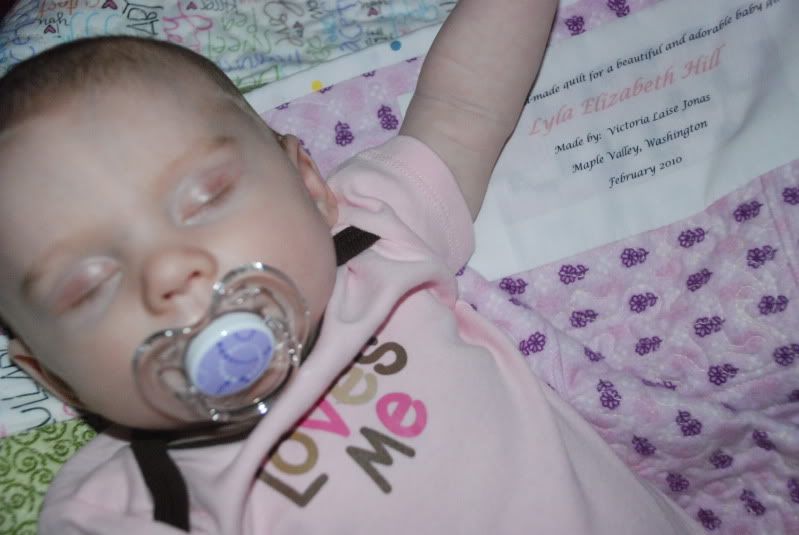 February 4th, 2010 at 3:56 pm by krishill
I promise all is well in the land of Lyla, I've just been crazy busy recently, so I apologize for not writing a blog post in almost two weeks. My mom and husband's birthdays are just four days apart so the end of January is always nuts. Tack onto that the fact that I've just come back to work and get busier here with the paper with each passing day, well, it's been hectic.
I don't really have a theme for this post, I just want to post about some things that have been going on to just so everyone knows what's going on with our kiddo.
Food
Now that I'm back at work, I'm eating much better than I was while on leave because I have structure to my day and I don't feel guilty taking a break from work to eat, because work doesn't mind if I put it down. Granted I eat at my desk most of the time, but, at least I eat.
It kind of pains me to admit that I gave up nursing about four weeks after Lyla was born but she wasn't gaining weight and I just wanted to her to be able get enough to eat, which wasn't happening with nursing. She's a stubborn girl, like mommy, and I think the tongue tie issue just set us on a different path from the start whether I liked it or not.
So, we started out with this ready to eat formula that they sent us home from the hospital with:

But it's $10 for a box of six bottles, which lasts about three days now — Lyla's drinking four ounces per meal now, yay — so we switched to the powdered version.
Basically this (I don't have my own image, so, I grabbed this one from another photobucket account)

Today I picked up a soy based version at Costco because Lyla gets really uncomfortable gas and even with burping and passing gas she can be pretty fussy. She fusses badly when she's hungry and has painful gas, otherwise, she's a pretty happy baby.

So, this is what I got today (thanks Mom, for the $100 Costco card for Christmas)

We'll see how the soy based formula works. I'll report back on that in a week or so.
Development
Jason's grandmother, Ellie, has been taking care of Lyla while we're at work which I have previously mentioned. Every day when I get home, she tells me all about Lyla's day, new things she's doing and all the things she does with Lyla.
She puts Lyla in her activity gym so she can work on developing her coordination and plays music to help stimulate her growing brain.
Ellie also is doing a little bit of tummy time with Lyla every day so she can build up strength in her neck and arms so that she will be able to eventually sit up on her own as well as roll over. These things lead to eating solid foods, crawling, and all the other skills Lyla will need to be a self-sufficient person. My mom and Ellie think Lyla will be walking early and suspect she'll skip over crawling altogether.
Lyla already has awesome head and neck control for her age. She blows me away.
Ellie told me yesterday that she is surprised by how alert and active Lyla is at 2 1/2 months old. Usually babies her age spend most of their time eating and sleeping, she said, but not our girl. She's curious and looks around as well as just likes to see what's going on.
Lyla likes it when Ellie reads books to her. Jason's parents got her a box of "Baby's First Books" with small cardboard and bath safe books.
A new favorite activity is playing with her pink elephant rattle which plays music when you pull its tail. She smiles and giggles at that.
Many mornings Jason and I will sit with her on our bed and sing along with music on the radio or his iPhone. We just got a Phillips alarm clock radio with an iPod/iPhone dock so we can play her our favorite tunes or the playlist Jason made while I was pregnant called "Lyla's Songs." It starts off with, "Lyla," a song by my favorite band in the world, Oasis.

Jason was telling me this morning that he was singing to her yesterday and she really enjoyed it, she was laughing and smiling at him. That makes me happy. We're both musicians (he played clarinet and I played viola — he plays guitar now) so she's going to grow up with lots of music. I hope she takes to music and wants lessons of some sort when she gets older.
And we know music is good for her … I play jazz and Mozart for her, especially when we're in the car, we listen to Miles Davis and Thelonius Monk.
Every day is so exciting with Lyla.
People ask me all the time how she's doing and I could talk endlessly about everything she's doing since every day is a new adventure. There's a reason the blog is called Baby Babble!
Growth
This is the last thing I'll talk about today. Lyla is getting bigger all the time but she seems to just be getting taller more than anything. She's finally outgrown her newborn clothes and is filling out 0-3 month size items.
A growing Lyla also means making a change in her sleeping arrangements. We got a bassinet from a friend of my mother-in-law's before she was born. I had zero intention of her sleeping in our room but once we got her home there's now way I could let her sleep anywhere else.
Ellie has been putting her down for naps in her crib the past couple weeks so that when we do start putting her in there at night it'll be an easy transition. Right now, when Lyla stretches her arms out, her armspan is too wide for the bassinet and in a couple weeks she'll be too long to fit in it.
I had planned to put her in her crib last Friday night but I just couldn't bring myself to do it! At this point I don't wake up every couple hours to make sure she's breathing — I'm such a new mom! — but we don't have a baby monitor system so I'm still kind of nervous letting her sleep in her crib at night even though she's only about 15 feet away from us.
Pretty soon, though, I won't have a choice. I better get a monitor so I can better handle the transition. She'll probably be just fine.
So hopefully in the next day or two I'll post some videos of Lyla here on the blog so you can see why I am already planning to sign her up for martial arts — Bill Woodcock suggested tae kwon do, of course!
Till next time.
January 22nd, 2010 at 11:52 am by krishill
It's been almost three weeks since I came back from maternity leave and whenever I talk to one of my regular sources, I get the same question:
"How does it feel to be back at work?"
Every morning I have to tear myself away and go to the office. This week my husband suggested I get up half an hour earlier than I need to so I can spend some time with Lyla before I leave. Jason has been off for the past three weeks spending some quality time with our daughter since he only had about four days with her after she was born. So, that gives him a bit of a reprieve in the morning while I change her, get her a bottle or feed her so he can get a little extra sleep or do a couple other chores around the house.
I have found that it's a bit easier to head out the door after taking the extra 30 minutes or so to spend with Lyla.
Once I get to the office and get focused on work, and I hope this doesn't sound horrible, but for a little while I forget I'm a parent.
During the past three weeks I've been getting re-connected with the communities I cover and all the wonderful people I work with as well as meeting new people. I am reminded daily what I love about my job.
Basically I get paid to talk to awesome people about awesome things they are doing or awesome things that are happening in the community, take pictures, write about all of it then put that work onto a newspaper page or upload it to the Reporter Web site.
For me, there really isn't a better job.
And at the end of the day I get the reward of going home to my beautiful daughter and wonderful husband.
It keeps everything in perspective and so far, I seem to be finding a balance.
Have I mentioned how lucky and blessed I am lately?
January 21st, 2010 at 9:55 pm by krishill
There is probably nothing more startling for a baby to wake up to than a needle being jabbed into her thigh.
And that is exactly what happened to Lyla this morning after she got the once over by our family doc for her two month well child check up.
After she was weighed and measured — she's 9 pounds now and 21 1/4 inches — our doctor checked all her vitals, reflexes, we talked about how she's eating, various developmental milestones, whether or not the water at our house is fluorinated (probably not, it turns out) and other important baby health issues.
After he left with instructions to come back in two months, we had a bit of wait, then the nurse who weighed and measured Lyla returned to give her the immunizations — a pair of shots and then an oral medication.
From there, we headed home and left Lyla in the care of her great-grandmother, Ellie.
We got our hair cut, then I grabbed lunch then headed to the office. While I was working Ellie was able to get Lyla to nap in her crib. That's a pretty big thing since she's primarily slept in her bassinet or cuddled with a family member. We're hoping daytime naps in the crib will help her transition to it more easily at night because she's going to outgrow the bassinet very soon.
After work we headed to Yuen Lui photography studio in Kent. My in-law's bought a family plan four years ago that came with four sittings and we only used one so I figured we should take advantage of the sittings to get a nice family portrait as well as professional photos of Lyla.
While I am a good photographer, I'm not a portrait photographer, nor do I have the equipment to take good portraits or the training, really.
I can't tell you how much I love the pictures. Technology is great because we were able to view and order the photos 10 minutes after the session was finished. Normally I hate pictures of myself but the photographer did a great job of picking poses that made me look good.
And Lyla looked adorable, as always.
She was fussy and we weren't able to totally settle her down to feed her but we got her calm enough to get pictures. They really show off her big baby blues.
Once we finished the session, we fed her, and by the time the photos were ready to be viewed she passed out. She's been asleep since and that's no surprise considering what a busy day it has been but it was well worth it.
Days like this remind me what a wonderful life I have with my own little family. I wouldn't trade it for anything.
January 19th, 2010 at 12:06 am by krishill
OK, so, I must profess that I don't actually know anything about the book, "It Takes a Village and Other Lessons Children Teach Us" by Hillary Rodham Clinton that I referenced in my blog post title.
I do, however, think the concept of having lots of awesome people taking part in your child's life is important.
Having my family and friends involved in Lyla's life is critical. When I was quite young, we spent a lot of time with my mom's family, but as I got older she drifted from them as my cousins grew up and moved away, as things changed and as I grew up. By the time I was 15, I lost touch with all but my most immediately family, my mom and my sister.
I was close with my best friend's family, Mike is the fifth of nine children and I spent a lot of time with them after we started hanging out in sixth grade.
After Jason and I started dating, I was blessed that his family is so wonderful, now I'm not saying there weren't bumpy patches since I was 17 when we started dating and 19 when we got engaged but as we've grown up our relationships with his parents, his brother and his grandmother have gotten better.
One reason I was so dead set on moving back to Washington state after we lived in Las Vegas (where Jason attended UNLV and earned his business degree) was so that when we did decide to start a family we'd be near our own relatives. We knew there would be plenty of baby sitters.
As I've discussed in previous posts, we agonized over what we were going to do about child care.
In mid-December, Jason's grandmother, Ellie was at our house with one of her sisters, Rae.
During the visit, Rae asked, "have you figured out what you're going to do about child care?"
Oh, boy. This was a tough question while I was on maternity.
"We're not sure yet," I admitted.
"Oh, I'll take care of her," Ellie said.
She had a big smile on her face. I was thrilled. Having a family member take care of Lyla would be ideal but Jason and I had thought his mom would have retired (she's got more than 35 years in with the Bellevue Fire Department) and would be available. We didn't think Ellie would be available and we definitely didn't know if we should even ask her to take on such a task.
Believe it or not, up until little more than a year ago, she was working. In fact, she was taking care of Jordan and Madison, providing in home care for those kiddos from the time Jordan was a little boy. They were the ring bearer and flower girl in our wedding.
They're teenagers now and changes in the family left Ellie without work.
It must have been meant to be … just a few months later I was pregnant.
So, starting tomorrow, she'll come over and help us out. Jason goes back to work next week so she is going to spend this week with him learning about what we do, where everything is, and so on.
No one is better qualified. She's the second oldest of eight children, raised two children of her own, helped take care of my husband and his brother then later took care of Jordan and Madison.
What's more, she only lives about 20 minutes away from us off Issaquah-Hobart Road, about halfway between Four Corners and Issaquah.
I am stoked.
Jason tells me she's pretty excited, too.
Maybe it doesn't take a village, it just takes a great family, and I feel so blessed that we can give that to Lyla.
Here's Ellie and Lyla the day our baby girl was born.
January 15th, 2010 at 3:28 pm by krishill
For months people would say to me, "Just wait, your whole life is going to change."
Duh. Can you hear me rolling my eyes?
Isn't that the point? To change your life, start or expand your family, and so on when you get pregnant?
People can get so melodramatic when you tell them you're pregnant. But, you've heard all those complaints.
Obviously — and to all of you reading this who told me my life was going to change, forgive me — I just nodded my head, smiled and said, "I can't wait" while silently dismissing you.

Don't you know that until someone is in the parenting club there's no point in telling them that? They're not going to listen. That's like trying to tell a teenager there's no reason to rush into adulthood because there's bills and work and chores and other mundane responsibilities. All they see is freedom.
And all an expectant parent sees is the wonderful, adorable baby they've envisioned in their mind.
So, obviously I was expecting my whole life to be turned upside down, to go through some major upheaval and need beta blockers or valium or both to manage the insanity.
Granted, the first week home with Lyla was challenging, but it really didn't take long for her to fit right into our life.
Yes, there's change, but it's incremental … almost like weight gain, before you know it you've put on 20 pounds.
Or, with a baby, before you know it there are toys everywhere, making a bottle or changing a diaper is second nature, you reach into your pocket for something and discover a pacifier and after the first couple trips out of the house that took an hour to get ready, suddenly you can be out the door almost as quickly as when there wasn't a bundle of joy to strap into a car seat.
Sometimes when people would tell me "your whole life is about to completely change" it almost sounded like an ominous warning tinged with a bit of resentment and wistfulness.
There is something about pregnant women that makes people, especially veteran parents, want to scare the crap out of them. What is up with that?
Parenting so far has been wonderful. I wonder to myself, "Why didn't we do this sooner?"
And I'm already plotting what I need to say to persuade Jason to go for no. 2 in a couple years. I don't want to wait too long, I'm 31 and high risk as it is, plus I don't want to have a huge gap in age anyway. My sister and I are nearly 12 years apart while Jason and his younger brother are separated by more than six years.
So, yes, life has changed. For the better. And in ways I would never have expected, which is what I suspect everyone was trying unsuccessfully to articulate.
I enjoy changing diapers, even stinky poopy ones, and feeding Lyla and trying to soothe her when she's fussy. Every moment is awesome when it's challenging.
Therefore I hereby promise to NEVER tell an expectant parent, "Just wait, your whole life is going to change."
I know better because I have officially joined the parenting club. Like every pregnancy and every baby, every parent is different, and every parenting experience is different so I'll just let you expectant parents find that out in your own way and time.
And now, pictures of Lyla.